Hans.J Wegner produced one of the most internationally recognized mid-century furnishings in the form of the Papa Bear Chair. It invokes traces of the animal kingdom because according to reports, the inspiration behind its idiosyncratic shape and form derives from the moment a critic referred to its armrests "great paws embracing you from behind". Owing to its distinct form and teddy-bear association, it is a wonderful item to have at home. It may seem daunting trying to place this impressive chair, however, we've come up with a collection of layout ideas that'll inspire you to get up, get moving and get decorating.
A classic arrangement: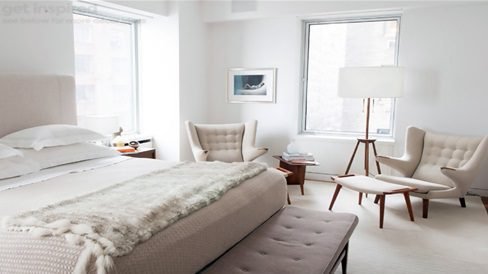 The graceful contours of the Papa Bear Chair deserve a place within the master bedroom as the willowy effect it produces emits a gentle charm. For those looking to craft a lovely space whilst creating a touch of visual interest, then they will appreciate the comfortable makeup of this contemporary upholstered piece. This setting, in particular, features a highly relaxed, modernist dash, infused with classic 21st-century furnishing like the tall standing lamp. The symmetrical grace of this seat aligned with another delicate twin produces a whimsical effect. The hushed color palette allows for the creation of a gentility that certainly will appeal to sophisticated sensibilities.
Snuggle up next to a fireplace:
The sample above depicts tonal and vivid hues with the grandiose aura of the Papa Bear Chair and an imposing yet tantalizing fireplace. As a firm advocate of Danish modernism, Hans worked predominantly with natural materials like wood and wool, and here you can see exactly how well his craftsmanship is reflecting abstract art and natural wood. Flanking it next to a mantle and a tasteful art piece you can create a sense of vibrancy without overwhelming your design. The immortal construction of this iconic piece of furniture means it fits seamlessly into modern rooms such as this that follow a theme of smart and trendy vibes.
A modish floorplan:
Pairing contemporary colors like the wash of white from the flooring, and décor pieces, alongside the toned down black with the graceful silhouettes of the Papa Bear Chair situated amidst them, results in a high-end dynamic room. Its seat is angled in order to recline and therefore is best positioned facing the lounging area. The luxurious padding and high back exude a curvaceous and inviting aura. Pictured above is a nice example of how apart from comfort, it's detailing clearly shows it was designed for style. Every element in the room follows a new modern design philosophy with its clean contemporary lines and polished designs.
Simple never goes out of style:
Many homeowners often look to make a space that is fully operational whilst still visually appealing. The blueprint above shows how you can forge a tasteful setup with the Papa Bear Chair. Whether it's a modern day bachelor pad, a refuge from children or simply an empty, emulating this furniture piece is guaranteed to enhance the appeal. Relatively lackluster and empty chambers as captured above enjoy articles that offer depth. Seeing as the chair presents a bold character, it can work perfectly as a freestanding article that acts as an anchor in the entire room. By adding supplementary accessories like a single-stemmed Eileen Grey side table, a matching ottoman, and lovely artwork you can upgrade this seemingly lifeless space into a quaint little relaxation haven.
Decorate in layers:
The welcoming yet stylish elements oozing from the image above are characteristic of the Papa Bear Chair. The color theme depicted is one of the neutrals with touches of rich jades and some earthy hues as well. This particular décor piece is a tasteful masterpiece that will pleasantly enhance living rooms, dining areas and even corridors with its luxurious contours and distinctly attention-grabbing personality.
By placing it at the edge of a contrasting rug, and flinging a faux fur throw over, you can soften a previously formal room and help it feel more casual with sacrificing on the aesthetic appeal. This perfectly portrays an essence of balance as you are layering it up with diverse furniture pieces like the glass table, leather chair cream-colored couch yet dark colored lamp, etc. All of this merged with contemporary and statement worthy moods, make it the perfect location to entertain guests.
Of course, there is an infinite number of layout patterns that you can follow by which you can use this armchair, however, if you are ever facing a moment of designer's block, you can always use this guide to boost your creative architectural juices.