The addition of a coffee table can add not only a practical space for your living area, but also a feature piece for friends and family to come around and bond. A living room, after all, is incomplete without a coffee table! From coffee, to board games, to tv night, there's a wide variety of functions that a coffee table serves depending on your needs. As such, it's a necessity to have in your home. But it's not just practical, it can be a design piece, too. You just have to know what to look for, and how to design your living space with a stunning coffee table as a centrepiece.
Below, some beautiful timber coffee tables that not only exude a classically stunning vibe, but are also a great fit for any home design.
Florence Coffee Table
This round coffee table, shown in Jarrah, is expertly crafted and pushes forward a classically elegant aesthetic that's sure to impress everyone. With a stable base and a wide surface for any knick knacks, coffee table books, or candles, that you might want to use as design items for your living area, the Florence coffee table can suit your needs perfectly.
Napier Coffee Table
If you're after storage that is beautifully designed, look no further than the Napier coffee table, available in Jarrah, Marri, Tasmanian Blackwood or Tasmanian Oak. With a spacious bottom compartment for magazines, newspapers, and books, not only will you have a practical coffee table for all your reading needs, but you'll also have one that will fit seamlessly with your existing furniture, adding a much needed piece for your living room.
Scarborough Coffee Table with Nests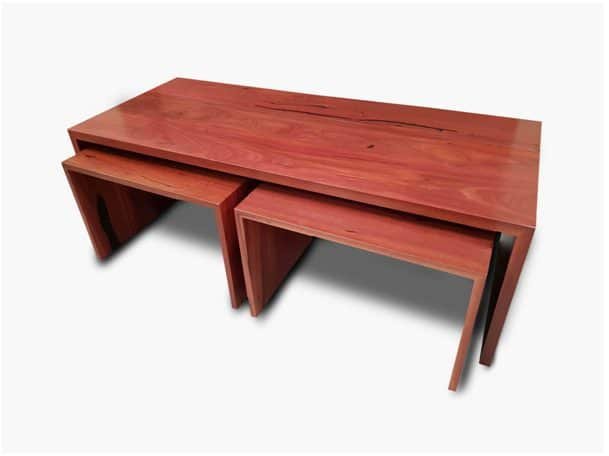 After a minimalistic look that still exudes a natural charm? The Scarborough coffee table with nests can be just the coffee table that you need. With crisp lines, and depending on your chosen timber, striking grain patterns and beautiful shades, you're sure to find this coffee table provides a streamlined yet elegant surface for your living room, no matter your needs.
Mapleton Raw Edge Coffee Table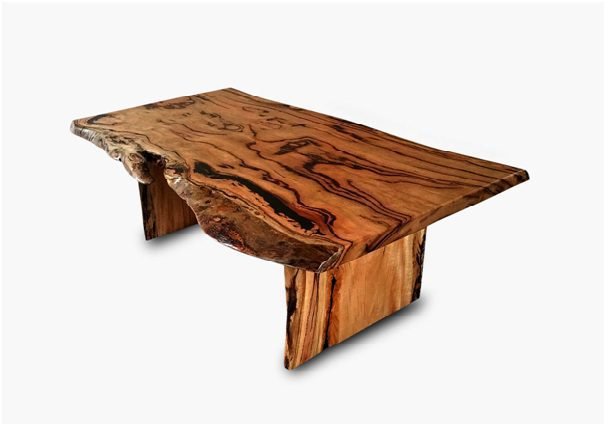 Shown with Marri timber, it's no surprise that raw edge furniture is gaining popularity with homeowners, with slab timber underlining the wood's natural beauty, knots, grains, and colour irregularities alike. There's no doubt about it, the Mapleton Raw Edge table, available in Marri or Jarrah, will be a conversation starter like no other.
Weyba Downs Coffee Table
Whether you're after a Jarrah, Marri, Tasmanian Oak or Blackwood table, the Weyba Downs table exudes a rustic charm that's sure to elevate the homey feel in your living space. It's popular for a reason: you can't go wrong with a simple design, as it can go along with any other furniture that you have in the room. Customisable and practical, it's a fan favourite!
And there you have it: 5 stunning coffee tables that are sure to not only elevate your home's design, while also mixing form and function into one piece of strikingly beautiful furniture.