Natural stones are one of the delicate items that make you decorate your house in the best manner. You can add more value to your house with the beautiful and amazing Natural patio pavers available in the market. Unlike the normal tiles, natural stones are all giving your house a more appealing and gorgeous look to your home setting, be it an outdoor space or an indoor one.
All you have to do is find the right type of natural stones that can go along with the essence of your home and make you lure in the space. Natural stones not only add charm to your homes but give you a more comforting space to live in. That is why every modern house is going for a variety of natural stones and settings. Natural stones can be added anywhere be it, terraces, gateways, parks or monuments. There are various types of natural spaces like granite or basalts.
Advantages of adding natural stones to your home setting
Natural stones serve to be the first choice of people owing to their great durability and varied style. The high quality of natural stones will make you fall in love with the vast array of colors and finishes of your house. Natural stones offer immense benefits over the traditional usage of the tile. These include:
Natural stones provide more durability to your homes. It provides you with a hard wearing that is not only easy to maintain and clean but will protect your homes from weathering and environmental resistance.
Natural stones are known for their beauty and the enhancing texture that adds more value to your homes. These timeless interior decorations items are timeless and in pace with the homely fashion trends.
The elegance and stylish look they add to your homes will make you love the comfort and class in your homes. Natural stones have been used from the dawn of time and their enhanced usage only explains the importance they hold.
The most amazing aspect of using natural stones is that the no two pieces of natural stones are identical to each other. This uniqueness defines the style quotient of your homes. Natural stones have special veining, coloring and other natural characteristics. This creates a timeless floor covering for your homes.
You really don't need to spend a lot of time in maintaining them. It is compatible with your home settings and that makes it even more beautiful.
Natural stones work like the climate cooler in your home and are a preferred choice of the people.
Natural stones are very hygienic in nature and don't store any dust, pet hairs, or skin. So, you don't have to worry about your children playing on your natural stone floor.
Floors recreated with natural stones are very strong in nature. Their durability makes them fight stains, giving you one less thing to worry about.
Worried about the cleaning of the natural stones, just take a soft brush and a mop and clean all the stone floor tiles. It is this easy to clean a floor fixed with natural stones.
Why Should You Never Use Acid To Clean The Natural Stones?
Initially, the diluted version of acid was used to clean the surface of natural stones. The main idea originated from the fact that acid was an effective and very cheap cleaner for porcelain and ceramic tiles and easily removed all the stains and other grime that was a concern for the housewives. However, what people don't understand that is that some variants of natural stones are very sensitive to acids and so cleaning them with acid will result in losing the innate charm of the natural stones and even make you worry about the different issues in it. There are two main issues with the cleaning of the natural stones with acid.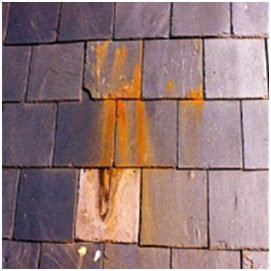 Oxidation is one of the biggest issues that arise when you clean natural stones with acid. It is a term used in chemistry when something catalyzes a reaction with the iron content present in the stone. This then results in rusting of the natural stones, totally degrading its value and quality. Many variants of natural stones have a different type of iron content in them. With some considerable amount of rust is not a major concern because that is anyways going to happen in the course of time. But the type of the acid which is used for tile cleaning, muriatic acid, is a very strong acid and is worthy of catalyzing an oxidation reaction easily. the general relationship over here is that the stronger the acid, the higher will the oxidation rate of the reaction.
Another major consideration of using acid on natural stones can result in is surface etching. There is a range of surface etching that can take place depending on the surface finish of the natural stones. For the same reason, surface etching has different visual outcomes. For example, the use of acid can dull out the color of a highly polished and honed finished natural stone owing to the significant surface marks and divots. This type of surface etching will depend on the type of acid used and so will totally spoil the charm of the natural stone. The natural characteristics of the natural stones like the natural cleft finish in the stacked rock panels can be negatively impacted by the surface etching process. Since each natural stone has a different pace, the outcome will also be different on each natural stone.
How Can You Prevent Oxidation And Surface Etching Process?
Dealing with the natural stone acidic reaction varies for every type of natural stone. Oxidation on the natural stones can be treated with some specific cleaning products and techniques. These ways can prevent any future oxidation bloom as well. Surface etching, on the other hand, is hard to treat and in major cases, you will be required to go for a new installation of the natural stones.
Conclusion
Preventing the reaction of acid on your natural stones will be provided to you by your Natural stone supplier. So, don't worry and enjoy the luxurious comfort in your homes