There are many different types of vacuum cleaners available in the market. Each kind of appliance has different design, working mechanism and features; therefore they can be better or worse for different purposes when compared with other styles. This article summarizes the design features of some of the most commonly used vacuum cleaner models and their best use.
Upright
Upright models consist of a vertical wheeled structure that needs to be pushed around like a shopping cart when cleaning. The cleaning head is at the base of the structure. The head consists of brush rollers and agitator bars to trap dirt from the floor. The brushes make these cleaners better for carpeted floor and pet hair. On hard wood or tiled floors vigorous rolling of the brushes can cause scratching. For this purpose the brushes can be switched off for use on different type of flooring. They come with attachments to reach narrower spaces and under the furniture, but still these vacuum cleaners are less suitable for hard to reach areas.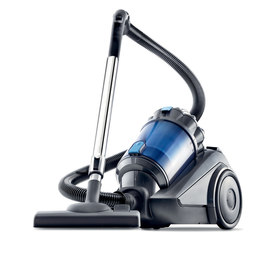 Canister
These designs consist of a cylinder on wheels which has a long hose attached to it. The vacuuming head is at the end of the hose. The cylinder contains motor, filter and dirt collection container. One has to drag the cylinder around while cleaning. The cleaning nozzle usually has static brushes making canister models suitable for hardwood floor.
However, some canister vacuum cleaners come with turbo brush in the cleaning head for carpeted floors as well. These cleaners provide better reach, as the hose can be easily used to clean under the furniture and in narrower spaces. It is also great for cleaning upholstery. Being lighter, these cleaners are also better for homes with stairs.
Drum or Shop
Drum vacuum cleaners are commercial cylinder cleaners. They consist of a large drum shaped cylinder on wheels and a hose. These cleaners are more powerful than any other domestic cleaners. Smaller versions of these cleaners can be used in homes for heavy duty cleaning. These are suitable for use in garages and your home's mini-workshop.
Wet-Dry
These cleaners are just a variation of drum or canister vacuum cleaners. They can be used to clean and contain liquid spills in addition to dry dirt and debris. They are also capable of reversing airflow using a switch or exhaust port. This feature can help one unclog a hose or force the dirt in a closed space into a corner. These cleaners are great for removing all kinds of spills in your home.
Pneumatic
These vacuum cleaners are basically more powerful wet-dry cleaner. They can be attached to compressed air for much higher suctions. So they are suitable for commercial and industrial purposes.
Backpack
These are cylinder vacuum cleaners that can be tied onto users back. These cleaners are used for commercial purposes when one needs to clean a large area at a very fast rate.
Handheld
These vacuum cleaners are usually cordless with a battery life of 10 to 15 minutes. They are small and light weight, and can be simply carried in hand for cleaning. They are less powerful due to the smaller sized motor. These vacuum cleaners can reach tight spaces and with attachment they are great for removing pet hair from the couch. They are perfect for small cleaning jobs.
Robotic
These automated cleaners are usually disk shaped, and work on a battery that can be recharged. They are equipped with navigation sensors so that they can find their way while cleaning. They come with brushes to remove dirt and debris from carpet and corners. The head of the cleaner changes its height when moving to a different floor, making these vacuum cleaners suitable for all kinds of flooring. These cleaner are great when one does not have the time to do the cleaning himself.
Cyclonic
These are bagless cleaners that rely on centrifugal effect to separate dust and dirt from air. The air sucked in from the surrounding is rotating at a very high speed; this causes the heavier particles in the air to separate due to centrifugal force. Unlike bagged cleaners, these cleaners don't lose their suction as dust collects in the container. If you find removing and replacing collection bags difficult, then use cyclonic upright or canister vacuum cleaners.
Central
These cleaners consist of a powerful motor and filtration unit in a central location in a building which is connected to the rooms of the house with 3 – 4 pipes in the walls. When one needs to clean a very long hose, usually 8 m, is connecting to one of the vacuum inlets in the walls and carried around the rooms. The collection container for these vacuum cleaners is very large so one does not need to empty the bin often. Also, with these cleaners make your home cleaning is much easier and faster. These machines are the best if you have allergy sufferers in your home as the exhaust air from these cleaners is released in a remote location. In addition, since the motor is located outside your home's living areas, these cleaners are much more silent.
Also, last but not the least CPAP cleaners, if you are worried about your baby's health and want to make him safe from dust and bacteria in your home then you should buy the best cpap cleaner on amazon now.