When you are a homeowner, you will want to take excellent care of your roof, as it is one of the most expensive parts of your home to repair and replace. There are many things that you can do to ensure the integrity of your roof, and an excellent addition is tile guards. If you have a pitched roof with slate or other tiles on it, here are some of the reasons you should consider adding tile guards.
Stopping Snow From Slipping Off The Roof
If you live in an area of the country that sees a lot of snow each year, then tile guards can also be an excellent addition to the roof of your home. Tile guards will not only stop tiles from slipping off the roof, but they can also prevent snow that has collected on your roof from falling off. When snow accumulates, it becomes surprisingly weighty, and if a large amount of snow slips off your roofing and lands on someone or something, it can cause a lot of damage. When it comes to safety in your home for you and your family, you will want to do anything that you can to prevent accidents from happening, and adding tile guards to your roof is an excellent way to make your home a safer place.
Preventing Slipped Tiles From Falling
One of the most significant benefits to having tile guards on your roof is that they can prevent any tiles that slip from falling. If a tile falls from your roof, it can be dangerous and can cause plenty of damage to anything below, as well as injure anyone if it hits them when it falls. The addition of the tile guards will prevent the tiles from falling as they will be caught on the tile guards, helping to stop damage and injury from occurring. You do not need to use the services of a roofing contractor as you can buy tile guards for roofs online and install them easily yourself.
Available For All Types Of Roof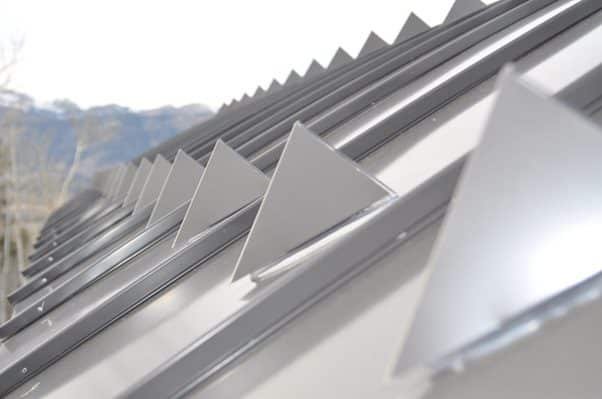 Image Source: Wikipedia
No matter what material you have on our roof, whether it is ceramic tiles, slate tiles, shingles, or even metal, there is a tile guard which will be suitable. They are simple to install and can be done by someone with average DIY skills in a couple of hours. You will need a sturdy set of ladders to climb up to the roof, and you may also want some cat ladders so you can get on the surface of the roof without walking on it. Stepping on tiles and shingles can damage them. You will want to be careful when installing the tile guards so that you do not damage your roof.
If you have a pitched roof and live in an area that gets a lot of snow each year, you will want to consider installing tile guards to your roofing and help to keep everyone safe. Preventing tiles and other debris from falling can save a life, and remember to check your roof regularly so that if any tiles do slip, you get it repaired straight away.