It's time to create that dream office! A U shaped desk is the perfect anchor to better support your new work-at-home lifestyle.
Now that you've settled into working from home, it's time for an office makeover to create the best, most efficient, and motivating work environment possible.
To stay tidy, organized, and productive throughout the workday, you'll need a home office in which you look forward to spending your days.
It all comes down to your choice of desk. Not only will it be the anchor of your home office, but your desk will also anchor your sense of productivity. It will determine how comfortably you can work – focus and stay on task – and how efficiently you will handle your daily workflow.
One of the best desk designs to address every element of a productive and organized workspace is the U shaped desk. Spacious, versatile, and so very functional, it's a desk that will transform your entire office experience, not just the space itself.
Typically larger than a standard desk, a U shaped desk will make a bold and attractive statement in your new home office. It provides more storage and desktop surface area in a style that coordinates well with any decor — all in a single piece of furniture.
Not convinced? Here are five great reasons that a U shaped desk can transform not only your home office but your life at work as well.
1. Extra surface area
If yours is a professional life that involves an expansive workload every day – various tasks that alternate between meetings (online and in-person), hard-copy documents, paperwork and filing, and hours spent on the computer – then a U shaped desk is a perfect choice.
With three stretches of desktop work surface, you can easily handle your professional demands. Feel free to spread out hard copy and oversized documents on one side of the desk as you focus on computer work on another, with the quick turn of your chair.
Choose to store essentials on your desk without interfering with the vital workspace. A U shaped desk allows for so much space to multitask. Conduct work, keep office essentials close by, conceal sensitive documents, conduct video conferences, and even include guest seating for face-to-face meetings and collaboration.
Create a genuinely multifunctional work area that promotes business organization, efficiency, and productivity all in one place.
2. An abundance of storage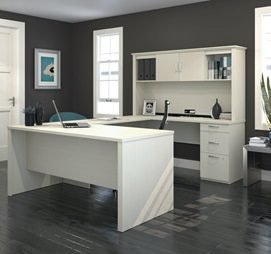 It's hard to overstate the versatility of a U shaped desk. Between the ample desktop workspace and the amount of storage available, it's a desk that meets any professional's workday demands with ease.
When it comes to U shaped desk storage, the options are seemingly endless. Choose from practical pieces such as a credenza or a hutch. They each provide a unique configuration of cabinets that include cubbies, drawer units, and filing pedestals.
The storage components for a U shaped desk ensure that you have ample space to work freely, without stacks, piles, and clutter that can easily distract and overwhelm. Pieces such as a credenza or a hutch provide all the necessary storage without taking up precious foot and leg room beneath the desk or valuable office square footage and floor space.
3. Serious space-saving
You might imagine that a U shaped desk is just far too big to be useful in your smaller home office space.
Don't write it off just yet! With how much work and storage space are available within its three sections, a U shaped desk offers significant bang for your office space buck.
Though they come in a range of sizes, the U shaped desk is generally larger than a standard desk. It offers such versatility and efficient use of both vertical and under-desk space that its overall footprint is less overwhelming than you might think. Not to mention the asset it is when it comes to your overall comfort and productivity.
Undeniably, the size of your room might limit your desk choices. But an awareness of the possibilities a U shaped desk offers can help you make the best use of your available space and help you make the best purchase. It's worth a little extra effort to explore the options to find a size that works in your space.
4. Foster an image of professionalism
When it comes to functionality, it's hard to find a desk design that comes close to a U-shaped configuration. Similarly, when it comes to projecting the ultimate in professionalism, the U shaped desk is often beyond compare.
Your home office will reflect your image or brand; it's important that it is one that leaves a positive, professional, and long-lasting impression. And when you feel at your best in your workspace, it will reflect in your confidence and the quality of work that you do.
A quality, attractive U shaped desk will serve as a vital asset to your professional image – one that's eclipsed only by your experience and expertise.
5. Ergonomics for well-being
With so much time spent at work, often at our desk, we have to be comfortable – we need ample space not only to do our work but for our legs and feet as well.
The workstation should be tidy and organized and allow you to work without feeling cramped and overwhelmed with clutter. A U shaped desk, ergonomic in nature, combined with a thoughtfully designed office chair, offers ample physical comfort and support, and the ability to access all your work essentials with ease.
A U shape design lets you reach and work without strain or injury. You can move from task to task in comfort in an effortless, well organized, and streamlined work environment.